UPDU® Universal Power Distribution Unit
Modular. Slim. Upgradable.
Easy Access for Service
The UPDU is very service friendly as all modules are assembled from the front.
Replacement of a module takes less than 2 minutes and shortens maintenance dramatically compared to swapping a whole PDU.
Upgradable
Every UPDU comes with Metering per Outlet per default installed in hardware - even on lower cost models with inlet/branch measurements. Customers can always purchase the outlet metering feature with a license later.
Furthermore individual outlet modules can be swapped, e.g. a metered only module can be replaced by a outlet switched/metered module.
RCM
UPDU models can be equipped optionally with a Residual Current Monitoring Sensor Type B (EN 62020) still maintaining the same form factor and length.
Continous residual current monitoring at PDU level complies with DGUV regulation 3 and does not require system disconnection for testing.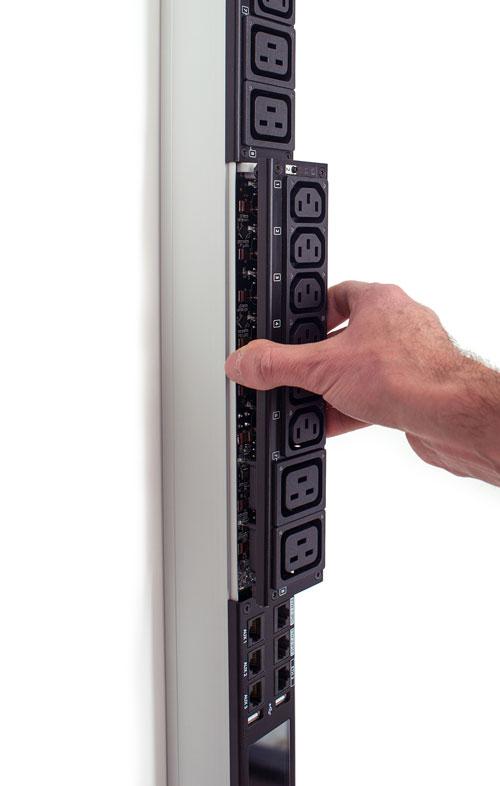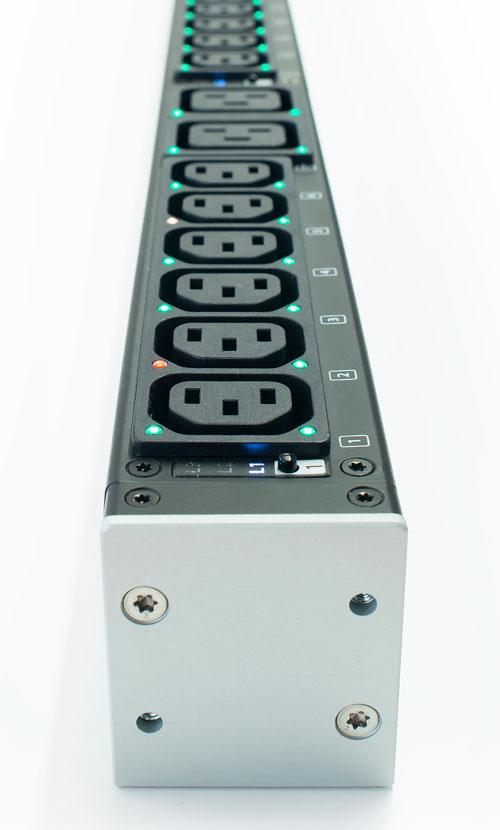 Robust and Slim
The housing is based on anodized aluminum profile and steel
faceplates.
The UPDU with its outer dimensions of less than 50x60mm fits in any rack.
Single or double mounting brackets are available - fitting 2 UPDU side by side takes only 100mm of width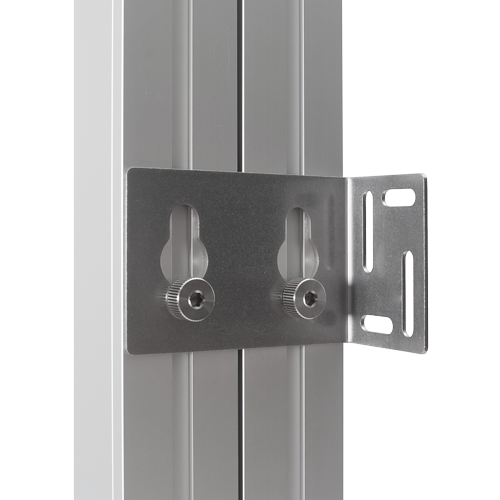 Cutting Edge Controller
Internal data storage for min. 60 days of measurements recording
3x Network ports with Power over Ethernet (PSE and PD)
3x AUX ports for external sensors, console and/or RS232 devices
2x High-Speed USB ports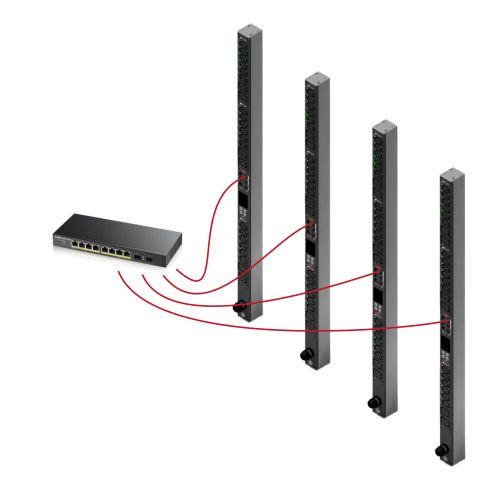 Star Topology
Classical Gigabit (or 10/100 Mbit) star topology enables the highest availability. With each UPDU having a built-in Power over Ethernet PD controller on ETH1, the facility Switch can delivery power to each UPDU in case of AC power failure.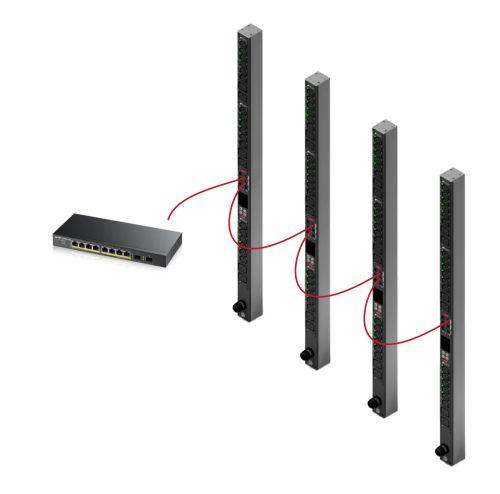 Daisy Chain
The built in Gigabit Ethernet Switch in each UPDU enables daisy chain topologies with unlimited amount of devices. Furthermore each UPDU powers the next PDU via Power over Ethernet PSE on ETH2 should its AC power go down.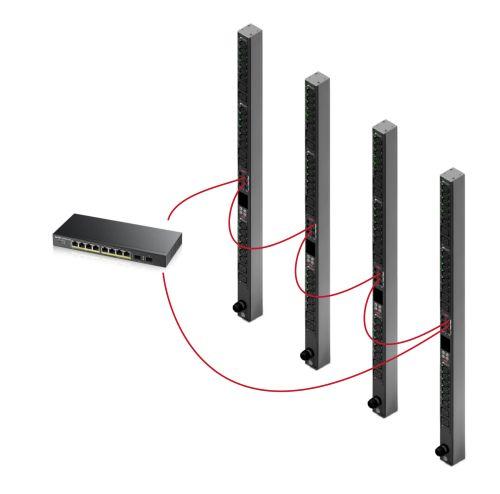 Ring Topology
Each UPDU comes with RSTP in order to support full ring topologies (n-1 redundancy) even if your main switch does not support it.
Even if one complete power feed goes down (every second UPDU) communication to all PDU's is still guaranteed.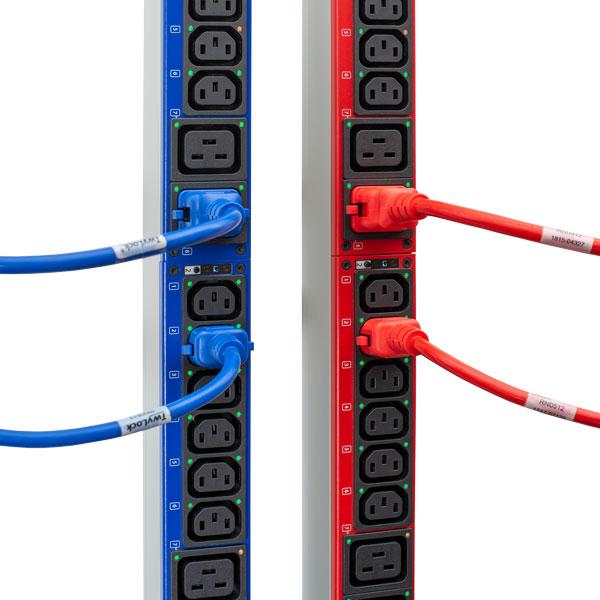 Locking Outlets
All Universal Power Distribution Units have locking C13 and C19 outlets as standard. Locking cables such as TwyLock snap into outlets automatically when inserted to guarantee a safe and robust connection.
RNX offers TwyLock cables C14/C13 as well as C14/C15 and C20/C19 from stock in black, red, blue, white and in lengths from 0.5 to 3.0m.


RN3520 UPDU
Outlet Switched & Metered
19", 3.6kW
inlet: 1-phase 16A, CEE, 3m, 2.5mm2
outlets: 6x C13, 2x C19


RN3526 UPDU
Outlet Switched & Metered
"Zero-U", 3.6kW
inlet: 1-phase 16A, CEE, 3m, 2.5mm2
outlets: 12x C13, 4x C19


RN3542 UPDU
Outlet Switched & Metered
"Zero-U", 7.2kW
inlet: 1-phase 32A, CEE, 3m, 4.0mm2
outlets: 12x C13, 4x C19


RN3234 UPDU
Module Metered / Upgradable to Outlet Metering
"Zero-U", 7.2kW
inlet: 1-phase 32A, CEE, 3m, 4.0mm2
outlets: 24x C13, 8x C19


RN3235 UPDU
Module Metered / Upgradable to Outlet Metered
"Zero-U", 11kW
inlet: 3-phase 16A, CEE, 3m, 2.5mm2
outlets: 18x C13, 6x C19


RN3278 UPDU
Module Metered / Upgradable to Outlet Metered
RCM residual current monitoring
"Zero-U", 11kW
inlet: 3-phase 16A, CEE, 3m, 2.5mm2
outlets: 18x C13, 6x C19


RN3216 UPDU
Module Metered / Upgradable to Outlet Metered
"Zero-U", 11kW
inlet: 3-phase 16A, CEE, 3m, 2.5mm2
outlets: 36x C13, 12x C19


RN3538 UPDU
Outlet Switched & Metered
RCM residual current monitoring

"Zero-U", 11kW
inlet: 3-phase 16A, CEE, 3m, 2.5mm2
outlets: 36x C13, 12x C19

RN3517 UPDU
Outlet

Switched & Metered
RCM residual current monitoring

"Zero-U", 22kW
inlet: 3-phase 32A, CEE, 3m, 4.0mm2
outlets: 36x C13, 12x C19

RN3245 UPDU
Module Metered / Upgradable to Outlet Metered

ABB thermal-magnetic MCB
"Zero-U", 22kW
inlet: 3-phase 32A, CEE, 3m, 4.0mm2
outlets: 36x C13, 12x C19

RN3546 UPDU
Outlet Switched & Metered

ABB thermal-magnetic MCB
"Zero-U", 22kW
inlet: 3-phase 32A, CEE, 3m, 4.0mm2
outlets: 36x C13, 12x C19